SurfWatch Getaway Cottages
The home of OceanFun Publishing Ltd
These are the views we have been recently enjoying from our office...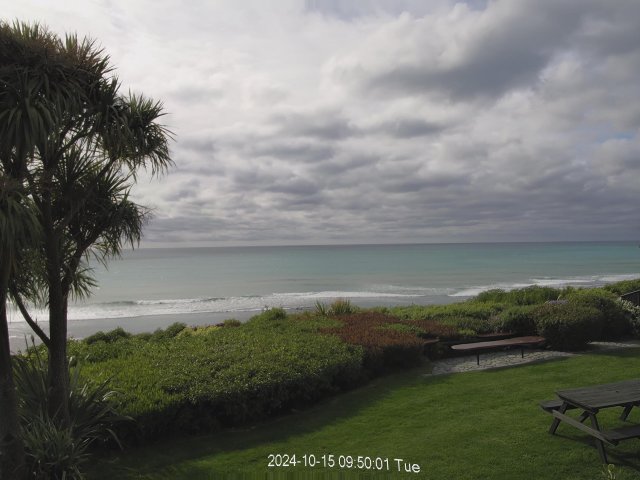 Today (Wed): Sunrise at 7:14 am Sunset at 5:43 pm Centre of pic is 116° (ESE)
Click the image for a full size pic, and again to zoom in.
The image updates itself every few minutes while a browser is active,
or every 20 mins if nobody is watching.
There is an archive where you can see pictures up to 24-48 hours ago.
For further information, accommodation, reservations, see our page at
SurfWatch Getaway Cottages
Copyright © 2017 - 2022 OceanFun Publishing Ltd. All rights reserved. Reproduction of this page in whole or in part in any form or medium without the express written permission of OceanFun Publishing Ltd. is prohibited. Please read our
Terms and Conditions.
This site is optimised for Mozilla FireFox, and tested with most other popular browsers.
A blurb about SurfWatch, in part to get the right keywords associated with this page.
This page is mostly useful for surfers, boaties, muckers-about in boats, pirates, and beachcombers. Visitors and guests at SurfWatch Getaway Cottages might also be interested. "Surfwatch is truly a unique and charismatic spot, perched on the edge of the Pacific Ocean, and backdropped by the incredible Seaward Kaikoura mountains. Here you can enjoy the amazing and mysterious moods of nature. How big will the surf be? Catch a moonrise, or the watch dolphins play outside your window? How about a sunset that covers the entire sky (except perhaps the part behind the mountain at your back doorstep)? Unusual cloud formations, spindrifts, or huge breaking waves? Every day is a fascinating day at SurfWatch!" Things to do in Kaikoura include whale watching, dolphin swimming, seal swimming, shark cage dives, bush walking, beach walking, bird watching, yoga classes, tramping (hiking), mountain climbing, skiing and snowboarding, surfing (Learn to Surf), charter fishing, surf casting, snorkeling, golfing, horse trekking, wine tasting at the winery, and there are plenty of artists and art galleries to visit. The Hanmer hot pools are about 2 hours drive away, and in the summer time there are swimming holes in the rivers to enjoy. We recommend you allow about 3 days to stay in Kaikoura. SurfWatch is 15 minutes drive north of Kaikoura, perched above the ocean. Mangamaunu Point, about 5 minutes walk away, is perhaps the South Island's most famous surf breaks - Graveyards and Meatworks. Ohau Seal Colony is located about 10 minutes drive north; Hapuku Lodge, a bar and restaurant featuring the South Island's largest collection of boutique beers, is a 2 minute drive; and Seaward Pottery is also a 2 minute drive. From SurfWatch, you can surf or walk the beaches. Beachcombing is fun as "Paua" shells (New Zealand abalone) can be found. Paua is unique for its rich blue and green colors.

The following links may be of interest; they are mostly sites that link to this page...